Questions ?
Call us at 905-624-5536.

H.H. Roberts Machinery Limited

1324 Matheson Blvd E., Mississauga, Ontario, Canada. L4W-2Z7, Fax 905-624-9065
The New HH Roberts / Topwell High Speed Mini-Mills are here !
The TW-18L shown with optional spindle temperature control system at the right rear of the machine, for the 12,000 rpm spindle fitted on this one. The high speed spindles enable improved surface finish when using the high speed machining capabilities of the Anilam 6000i series CNC control.
Feed rates of 400 IPM or more are available in contouring with efficient programming. A 128 block look ahead and responsive European AC digital drives adapt to the contouring for blend contours smoothly.
This control is a hybrid of a Heidenhain CNC processor and servo drive system, combined with servo motors made in Europe at factories in the Heidenhain group of companies, AND the popular Anilam user interface for intuitive, flexible operation.

The Heidenhain Group owns Anilam.
Specifications are at the bottom of this page.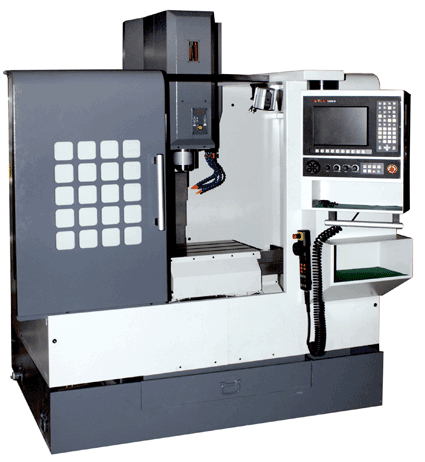 This photo is the first of the TW-18L taken in our own shop.
March 21 / 05, this model now has a wider front door for
easier access.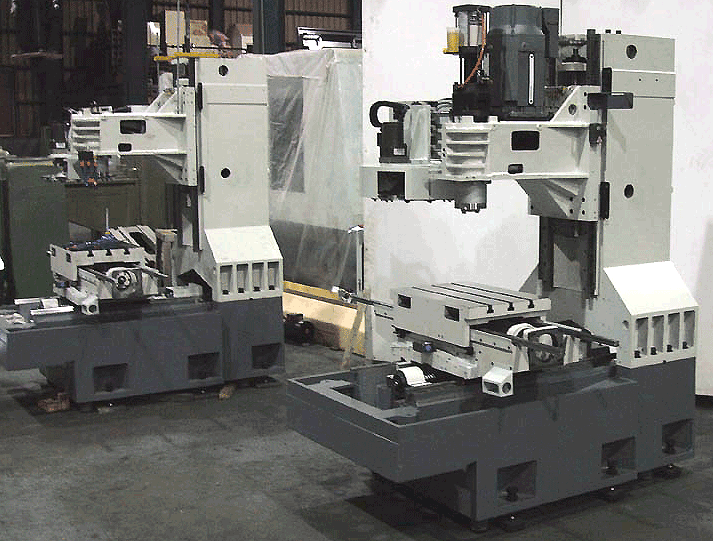 The picture above shows one each of the Topwell TW-16L and 18L frames. The machine on the right is being fitted with a Mitsubishi Meldas CNC to be exhibited in a local exhibition in Taiwan. Fanuc, Fagor and Heidenhain CNC systems can be supplied.
It is worth noting that in these shots of the frame before the chip enclosures are fitted that there are only a few pieces of fabrication.

1) the electrical junction box in the lower right corner of the saddle

2) some trip dog brackets

3) the guard around the tool changer

Every frame element is cast GA-350 meehanite.



No fabrications on this baby.
It is a frame that will be rigid enough for the 7 1/2 - 10 Hp spindle drive of the Anilam 6000 CNC system and will easily handle the 1400 IPM rapids and high speed machining
The frame in most of the pictures is the TW-18-L. It weighed 2,947 Kg without motors, wiring or the CNC control. We estimate the completed weight will be over 6,900 lb..
Click here to download the TWL Series catalog in pdf format.
Note the very wide casting for the base of this machine and that the inverted ' Y ' design of the column utilises this for added stability. The complete machine is built to take heavier cuts than most " mini-mills " that are fitted with 3 or 5 Hp motors and advertised as having much higher ratings for "intermittent" duty cycles that are revealed as short as 4 minute when you can actually find the small print that specifies this.

Our European digital spindle motors are rated for 7 1/2 Hp continuous and 10 Hp for 15 minutes.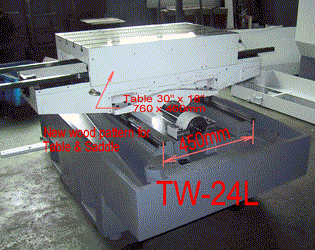 June 20 / 05: To the left the new base table and saddle of the TW-24-L. The table is 30" X 18" and sits on a new stronger, wider saddle. The Y axis slideways have been spread 2" wider for additional stability.
The first machines are on the boat and should be here about July 15.
TWL-18

TWL-40

Travels ( X x Y x Z )
18" x 16" x 16"
24" x 18" x 16"
40" x 18" x 19.3"
Table Size
22" x 16"
38" x 18 "
40" x 18"
Spindle motor
7 1/2 Hp continuous / 10 Hp intermittent
Spindle tooling
Cat-V 40 or BT-40
Spindle speeds
8,000 rpm standard. 6,000, 10,000, 12,000, and to 24,000 optional
Rapid traverse rate
1400 IPM
Contouring feed rates
with the new Anilam 6000i
3 axis contouring up to 800 IPM and faster ( program compiling depentant )
with auto accel / decel cornering
Automatic Tool Changer
Carousel style, 12 tools standard, 16 tools optional.
Optional arm type 24 tools.
Pull stud for Cat-V tools
Pull stud for BT tools
Command RB4E-0001 or equivalent
Command RB4M-0001 or equivalent
Spindle nose to table
4" to 20"
3.5 - 22.8"
Designed table load
300 Kg - 660 lbs
Ballscrews
class C3
Ballscrew thrust bearings
P4 on both ends of the ballscrew.
Castings
Meehanite GA-350
Approx Weight
3,200 Kg 7,050 lb
3,360 Kg 7,400 lbs
3,800 kgs. 8,360 lbs
Approximate floor space
76" x 77"
Accuracy
+/- .0002"
Repeatability
+/- .0001"